Medellín Antioquía, Colombia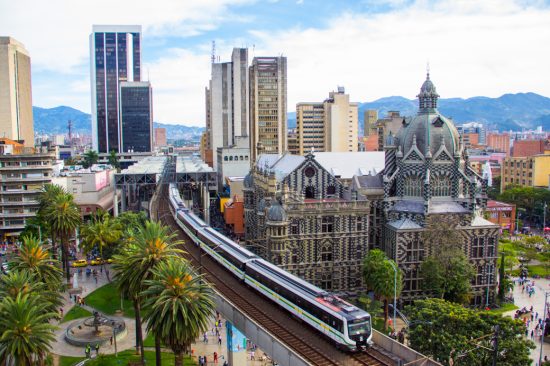 Medellín is the second largest, and most progressive city in Colombia (not Columbia). It has over 3 million people and it's set in the Aburrá valley, surrounded by lush vegetation, is the perfect home of orchids, parks and tropical birds  and over 300 small currents that flow into the Medellín River. 
Medellín is possibly best known for the culture seen on music videos and tv series, it happy and very kind people, beautiful women and tasty food.  But in fact, it's much more than that, the city is known as the "City of Eternal Spring" due to its mild climate ( 16ºC to 30ºC) all year long, and in 2013 Medellín was awarded the Innovative City of the Year by The Wall Street Journal, outranking rivals New York and Tel Aviv, probably an explanation of why international travelers often comment that: "Medellin is one of the most beautiful cities in South America"
Medellín Weather And Geography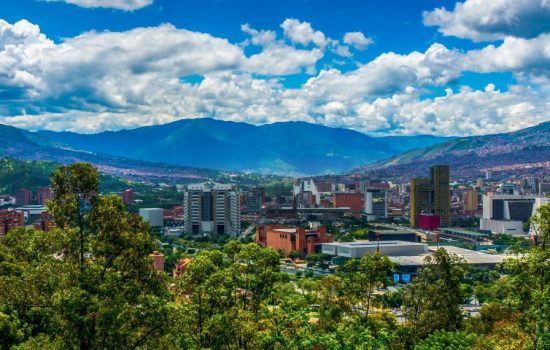 Medellín features a tropical monsoon climate, albeit a noticeably cooler version of this climate. Because Medellín is located at 5,000 ft (1,500 m) above sea level, its climate is not as hot as other cities located at the same latitude near the equator. Because of its altitude above sea level and privileged location in the Andes Range, Medellín's weather at times is more characteristic of a Humid subtropical climate than that of a Tropical climate. The city's average annual temperature is 22 °C (72 °F), and because of its proximity to the equator, its temperature is constant year round, with minimal temperature variations. Temperatures range from 15 °C (52 °F) to 30 °C (86 °F). Because of the pleasant springlike climate all year, Medellín is known as 'La Ciudad de la Eterna Primavera' or 'City of the Eternal Spring'. However, as the city is located in a valley and many of its districts are on slopes, temperatures can be slightly cooler on the surrounding mountains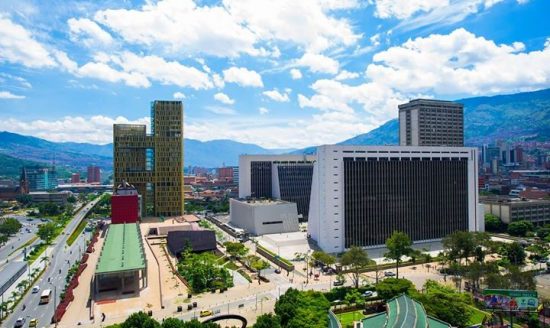 Medellin, Colombia is a city governed by a republican democratic system as stated in the Colombian Constitution of 1991, with decentralized government. Administration is shared by the Mayor of Medellin and the Municipal Council, both elected by popular vote .
The municipality is made up of official departments (secretarías) including department for social mobility, urban culture, social development, education, evaluation and control, government, resources, public works, administrative services, environment, women, transport, a general department, and a private department.
The city belongs to the Medellín Metropolitan Area, which is made up of ten municipalities. Medellín is divided into six zones and these are subdivided into 16 comunas (communes). The barrios and urban institutional areas make up the communes. More than 249 neighborhood and five townships are part of the municipality of Medellin.
Medellín Culture & Idiosyncrasy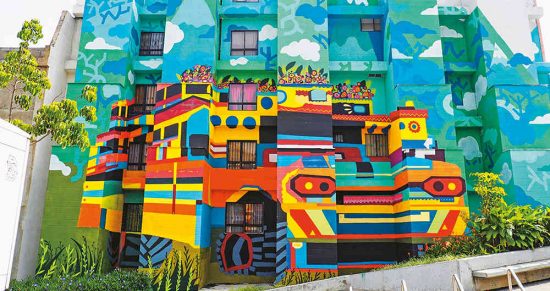 The inhabitants of Medellin, Colombia are often called Paisas, a name which some suggest comes from the coffee growers. The term Paisa comes from the word paisano (fellow countryman). Paisas make up one of the five different regional cultures within Colombia. The Paisa region includes the states of Caldas, Risaralda, Quindio and some towns of Valle del Cauca and Tolima.
Although Paisa culture is dominant in Medellin (the "Paisa Capital"), the city is becoming more cosmopolitan, now offering music from other regions of Colombia (Vallenato and Champeta), and a variety of restaurants including Chinese, Japanese, Thai, Arabic, French, Cuban, and Argentinian.
The Paisa culture has a Spanish background, and is traditionally Catholic, entrepreneurial, hard-working, and famously hospitable. Paisas are said to speak softly and quickly, to smile easily, and to love bullfights, rodeo, music, poetry, soccer, bargaining in the markets, and parties. They are proud of their city. The Medellin weekend nightlife, in discos, pubs, parks, and certain dedicated streets, is traditionally called rumba.
Air: There are two Airports in Medellin, José María Córdova International Airport and Olaya Herrera Airport. The José María Córdova International Airport (MDE) is in Rionegro, another municipality east of Medellín and outside the Aburrá Valley. It serves both international and domestic destinations, and can handle large aircraft and night landings.
There are international flights daily to and from Miami, Fort Lauderdale, New York, Mexico City, Caracas, Quito, Panama City, Lima, Guayaquil, San José, Costa Rica, and other important cities. Olaya Herrera Airport (EOH) serves mainly regional flights, commuter and light aircraft.
Land: The city's public transport system includes diesel buses, taxis, an urban train or tram  (tranvía), metro, cable car, and modern gas buses referred as the MetroPlus de Medellín. The whole Metro System connects the cities of Medellín, Itagüí, Envigado and Bello. In 2006, began the construction of Metroplus, a very modern bus service with a dedicated road, much like Bogotá's TransMilenio.
This now allow faster transit for the service's buses and Metro stations. Metroplus was inaugurated in 2009, and it cover most of the city nowadays. The first leg is the Troncal Medellín, which goes from the Universidad de Medellín in the west to Aranjuez in the northeast part of the city. Metroplus help lessen the city's pollution and traffic, as many old buses have been taken out of service, while the new buses work with natural gas.